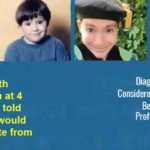 October 23 @ 6:30 pm
-
9:00 pm
AquAbility presents renowned public speaker and author on the subject of Autism – Dr. Kerry Magro, PhD.
Kerry will share his journey with severe Autism and provide information about Autism and speak about Transitioning into Adulthood with Autism.
We are all impacted by Autism whether we realize it or not. Let's learn as much as we can about it!
Please come to learn and to support AquAbilityprograms for people with disabilities.
Kerry will be holding a Book-Signing after his talk.